Tower Light Cinema
Let's get together and talk about cinema!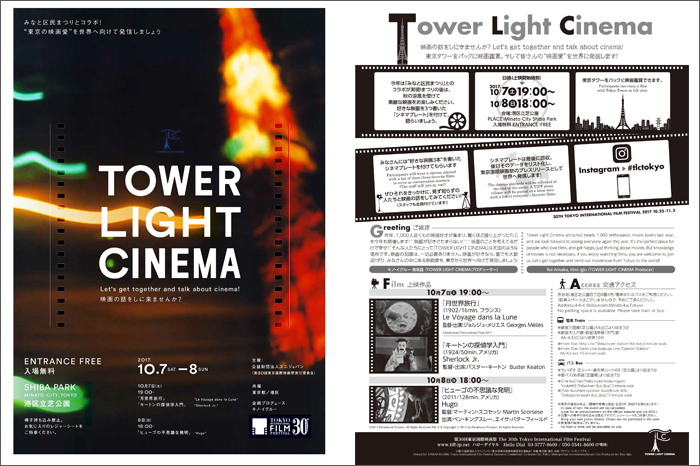 ※Tower Light Cinema Flyer ⇒DOWNLOAD (PDF:5MB)

Revel at the Minato Citizens' Festival,
then catch a movie in the autumn breeze.

10.7 Sat
19:00~
Le Voyage dans la Lune[France] [1902/16min]
Director: Georges Melies
Sherlock Jr.[USA] [1924/50min]
Director: Buster Keaton

10.8 Sun
18:00~
Hugo[USA] [2011/126min/English]
Director: Martin Scorsese


〇at Minato City Shiba Park ⇒access
〇ENTRANCE: FREE
〇Co-hosted by: Tokyo Metropolitan Government, Minato City
〇Produced by: Kino Iglu
Notice
In case of rain, the event will be cancelled.
(Look for an announcement on the official website and via SNS.)
Message
Tower Light Cinema attracted nearly 1,000 enthusiastic movie lovers last year,
and we look forward to seeing everyone again this year. It's the perfect place for
people who love films, and get happy just thinking about movies. But knowledge
of movies is not necessary. If you enjoy watching films, you are welcome to join
us. Let's get together and send our movie-love from Tokyo to the world!
…Rui Arisaka, Kino Iglu (TOWER LIGHT CINEMA Producer)
Enjoy a Night at TOWER LIGHT CINEMA
●Participants can enjoy a film with Tokyo Tower in full view.
●Participants will wear a cinema placard with a list of their three favorite films to serve as conversation starters. (The staff will join in, too!)
●The cinema placards will be collected at the end of the event. A TIFF press release will be posted at a later date with a list of everyone's favorite films.
●Instagram:#tlctokyo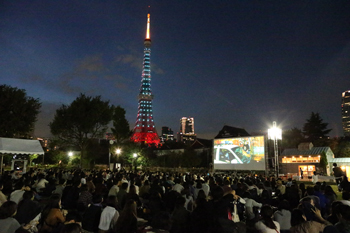 last year ©2016 TIFF